Hours for Tuesday, September 12: We are watching the weather and will keep the website updated. Please check here before going out in the rain and wind. Thank you.
Saturday, October 7th we will be closing at 3pm (Store and Donations)
It is our fabulous Bark and Boogie Ball (Black Tie Fundraiser) and we want all of our staff to have the opportunity to go home and get dressed up.
Thank you for your understanding and support. We appreciate you!!!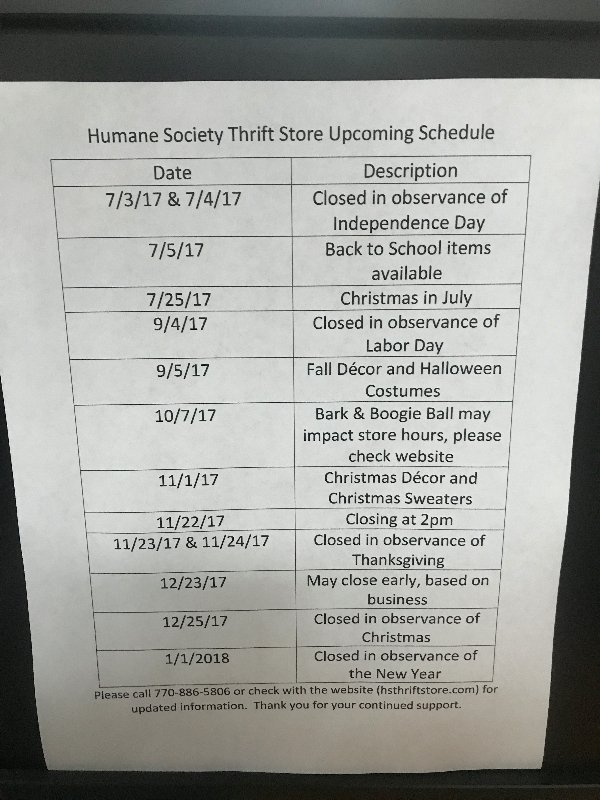 Here is our schedule for the remainder of 2017, so plan acordingly.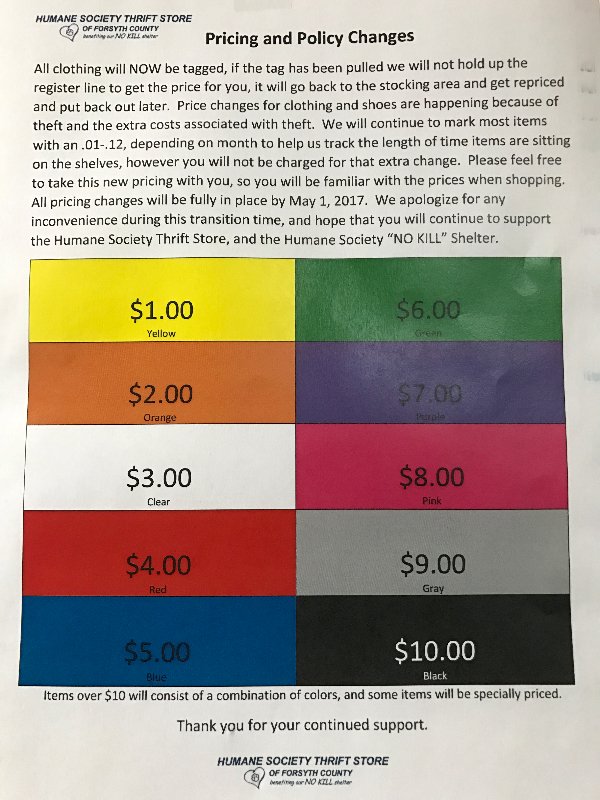 ABOUT US
When we opened our doors in 2010 our mission was and is: To receive gently used donated items from the community, then sell the items at a reasonable and fair price, so that we can then assist with the financial needs of the Humane Society of Forsyth County, our "NO KILL" shelter and their ultimate goal of rescuing more animals and through adoption finding them their forever homes. Over the years we have been able to give more and more, not only financially, but also through some of our staff fostering and volunteering at some of the community events such as The Mutts & More Festival and The Bark & Boogie Ball just to name a few. Our policy is "THE BEST OF THE BEST", we sort through the broken, chipped, cracked, moldy, soiled and stained items so that you do not have to. The items that do not fall within our specific criteria are recycled and sold, therefore we are making money. Nothing goes to waste. We appreciate that so many of our loyal customers understand that this is a labor of love for all the animals that don't have homes, the more we can raise, the more we can save! We do not have funds for advertising, it is all word of mouth, so please share with your family, friends and co-workers. If you have any questions, comments or concerns, please feel free to email us at info@hsthriftstore.com or call 770-886-5806 to speak with Debbie Bertsch, Executive Director or Mary King, Store Manager.
---
STORE AND DONATION HOURS ON THE INFORMATION PAGE
2017 STORE HOLIDAYS
Labor Day - September 4, 2017 CLOSED
Thanksgiving Eve - November 22, 2017 Closing at 2pm
Thanksgiving - November 23 & 24, 2017 CLOSED
Christmas - December 23, 2017 Closing early based on business
Christmas - December 25, 2017 CLOSED
New Years - January 1, 2018 CLOSED