TAX FREE - - BACK TO SCHOOL on Saturday July 30th 10am - 5pm
Items include: clothing, shoes and backpack, computer keyboards and monitors
Forsyth Central High School Graphic Arts Program and Local Wrap Company Help Furry Friends
for immediate release May 18, 2016
While most students were already thinking of the beach or graduation parties, the graphic arts students at Forsyth Central were hard at work the last few weeks of school...thanks to a collaboration between the school,
In-Depth Wraps and the Humane Society Thrift Store.

For eight years, In-Depth has partnered with Forsyth Central's graphic arts program, lead by instructor Heather Hanline, to oer students a new medium to consider for their art...vehicles. On the surface, the Stick2It program
teaches students about vehicle wraps and how they can t into a client's marketing plans, as well as beginning tips
and tricks for designing wraps. But the bigger goal is to showcase career opportunities for the students in the graphic arts industry. This is the rst time that the students have designed a wrap for a nonprot. "We loved many of the 79 designs the students submitted ... the quality of the designs denitely made it tough to choose. We enjoyed working with In-Depth through this process and appreciate being in a community that works
together," commented Debbie Bertsch, Executive Director of the Thrift Store.

"In-Depth has been working with some of these students for years ... it is really amazing to watch them grow into
strong designers," said John Westmoreland, owner of In-Depth. "We want these students to recognize their talent and what they have to oer the business community," added Torri Westmoreland, co-owner of In-Depth. "We want to piggyback on the momentum that Heather has started in
class, and keep them in the industry long-term." And in the end, it was the design talents of TWO students showcased on the box truck. Freshman Jennifer Bautista (graphics 1) and senior Jacy Shepard (graphics 2) were this year's winners. The funky typeface Jacy chose coupled
with Jennifer's strong image selection made the perfect pair. Julian Jenkins and Arthur Moreira (both in graphics 1)
were nalists. The winners earned bragging rights, prize money, and of course, their design displayed on the truck
(and their names on the door)!

Shepard commented, "Being able to have this opportunity so early in mydesign career was the biggest blessing
Icould have received. Many designers don't come in contact with a car wrap until the senior stages of their career
or perhaps never, so having this experience under my belt is invaluable." She will be attending Georgia State
University this fall, with a major in Graphic Design and Business.

"Once I realized it was my design on the truck, I got incredibly giddy and just couldn't stop smiling. This was
probably one of the most rewarding moments of my high school career, rivaled only by graduation."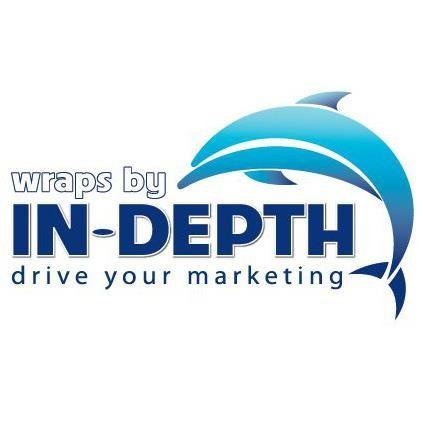 Thank You In Depth Wraps, Torri you are a pleasure to work with, you made this process appear easy.
We are so thankful for the support we recieve by our customers and we value your input! Please stop by the store and SHOP but also leave us any comments, questions or concerns in our new "comment box!" If you are unable to come into the store but stil want to let us know how we are doing, please go to the "contact us" page on our website and send us an email! THANK YOU!!
ABOUT US
When we opened our doors in 2010 our mission was and is: To receive gently used donated items from the community, then sell the items at a reasonable and fair price, so that we can then assist with the financial needs of the Humane Society of Forsyth County, our "NO KILL" shelter and their ultimate goal of rescuing more animals and through adoption finding them their forever homes. Over the years we have been able to give more and more, not only financially, but also through some of our staff fostering and volunteering at some of the community events such as The Mutts & More Festival and The Bark & Boogie Ball just to name a few. Our policy is "THE BEST OF THE BEST", we sort through the broken, chipped, cracked, moldy, soiled and stained items so that you do not have to. The items that do not fall within our specific criteria are recycled and sold, therefore we are making money. Nothing goes to waste. We appreciate that so many of our loyal customers understand that this is a labor of love for all the animals that don't have homes, the more we can raise, the more we can save! We do not have funds for advertising, it is all word of mouth, so please share with your family, friends and co-workers. If you have any questions, comments or concerns, please feel free to email us at info@hsthriftstore.com or call 770-886-5806 to speak with Debbie Bertsch, Executive Director or Cliff Norton, Store Manager.
---
2016 STORE HOLIDAYS
Monday, July 4-Independence Day--CLOSED

Monday, September 5-Labor Day--CLOSED
Thanksgiving--Wednesday 11/23 closing at 4pm, Thursday and Friday--CLOSED
Christmas--Saturday 12/24 closing at 4pm, Monday 12.26--CLOSED
New Years--Jan. 1 2017--CLOSED